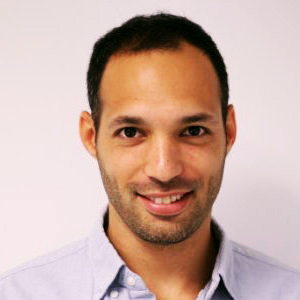 ---
Kamado Joe JOE JR.®WITH CAST IRON STAND Review
We receive free products to review and participate in affiliate programs. See our disclosure page for more information.
What completes beach parties, camping, and tailgates? You guessed it. Barbeque!
If you love to BBQ on the go, you will admire a Kamado grill adapted from the traditional Japanese mushikamado clay rice steamer. But, you must pick the right one to get the full experience.
Here's a decent option: the Kamado Joe JR., with all the charcoal grilling features condensed into a ceramic dome-shaped container. It's incredibly portable and makes grilling possible anytime, anywhere.
The question lies: Is it hot enough to perfectly grill steaks and bake pizza crusts without burning the toppings? Keep reading our Kamado Joe JOE JR.®WITH CAST IRON STAND review to find out.
Why Choose the Kamado Joe JOE JR.®WITH CAST IRON STAND?
Whether you want to cook in your backyard or go grilling by the lake, the Kamado Joe JOE JR. will make it happen. It lets you cook everything from grilled steaks and smoked briskets to lovely pizzas and desserts.
Who Do We Think Matches With Kamado Joe JOE JR.®WITH CAST IRON STAND?
Beach Partiers: Beach parties are incomplete without a classic smoked BBQ. The Kamado Joe JOE JR. makes barbequing more fun due to its portable design and striking color. Thanks to its unique shape, you can place the cast iron stand on soft surfaces such as beach sand.
Devoted Campers: If you are spotted in the woods every other weekend, you qualify as a devoted camper. All the campers out there can toss this grill at the back of the car and enjoy smoking hot meals all day long.
Folks Who Enjoy Rich Smoky Flavour: Everyone who cherishes the authentic charcoal flavor is likely to love the JOE JR. It adds a distinct smokey flavor to the food by locking the smoke and heat inside.
It can be a great addition to a party or a cookout.
Possible Kamado Joe JOE JR.®WITH CAST IRON STAND Complaints
Weighty for Size: Kamado Joe JOE JR. is relatively weighty for its size. It takes two people to carry the grill from one place to another. However, that doesn't mean it's faulty because the heavier size also suggests good-quality parts that translate to better performance.
Pricey: JOE JR. costs more than most portable grills in the market today. But, there's no doubt that you are getting quality. If you are a serious griller, you won't regret investing in a durable grill.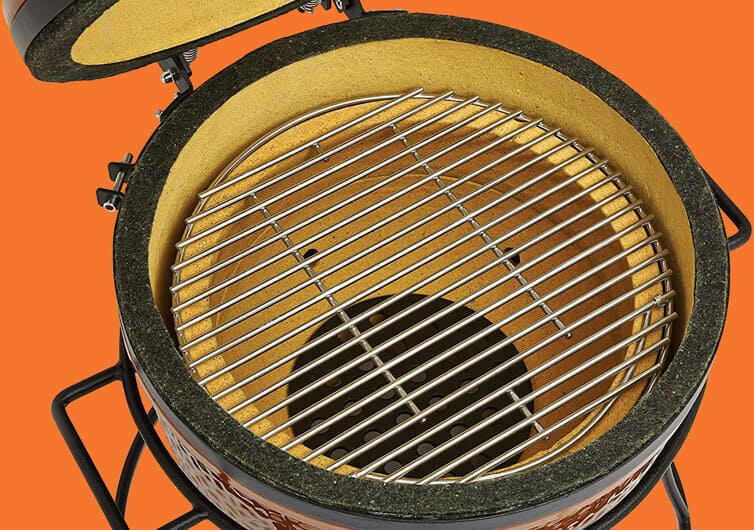 Brand Overview
Company Headquarters: Chamblee, Georgia, United States
Phone: 1-800-489-1581
Mail: consumersupport@Kamadojoe.com
Kamado Joe started when two grilling lovers got serious about creating the world's best ceramic cooker with superior quality and smart features. This passion for outdoor cooking with friends and family drives the company to craft grills and accessories that perform for better and longer.
Kamado Joe maintains uncompromising quality standards from design to production. It has produced some of the leading grills in the market, including the most popular Kamado Joe Classic II.
First Impression
Kamado Joe JOE JR.®WITH CAST IRON STAND offers a decent cooking space to grill, smoke, braise, and bake. The grill provides enough space to prepare a full main course for around six people at a time.
It has a heat resistant ceramic container featuring a textured finish in Blaze Red, which gives it the spotlight in any setting. The sturdy build and shape enable it to lock heat, smoke, and flavor inside so that you get a rich, smoke-infused flavor every time.
The grill stands at a weight of 68 lbs, which is slightly heavy for a portable grill of this size. However, it displays sturdiness and durability the moment it comes out of the box.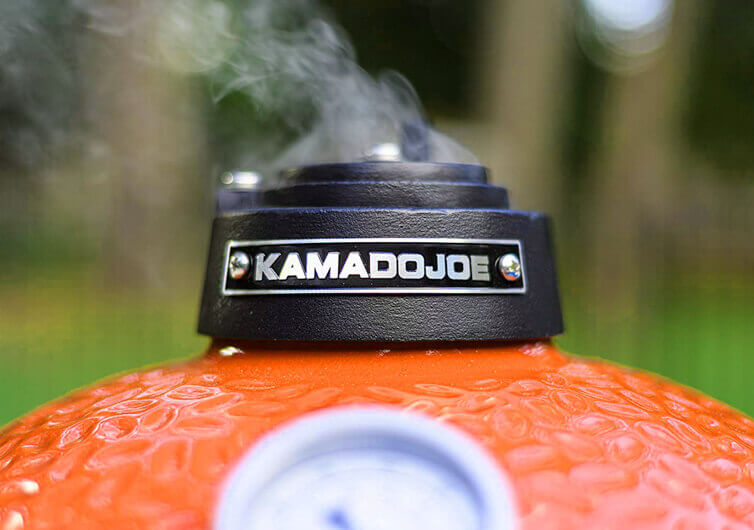 Key Features
Compact Design: Joe JR. has a compact design with a 148.5 sq. in. cooking area which can handle nine burgers at one time. The 13.5-inch grill can be used as a griller, smoker, or slow cooker. What's great about the design is that it can maintain low temperatures for a long time. So, you can leave food inside for slow cooking overnight to enjoy a smoky breakfast the next morning. Simply change the heat deflector plate to switch from grilling to smoking.
Precise Heat Control: With this grill, you can go from very high to very low temperatures for grilling, roasting, searing, or smoking. It maintains the temperature for longer due to its thick-walled ceramic shell and top air vent for temperature control. It also has a ventilation panel at the base for better heat management.
Cast Iron Stand: Joe JR. comes with a cast iron stand with handles, which makes it super easy to carry. The round base makes it more stables on soft surfaces. So, if you take it out on a beach picnic, the grill won't sink in the beach sand.
Preference-Based Features
Ceramic Grill with Cast Iron Grate: Due to its ceramic construction with a textured finish, JOE JR. is exceptionally durable and resistant to scratches. Additionally, the rust-resistant stainless steel cooking grate keeps away rust for superior performance each time. The air vent on top is also made of cast iron, which adds to its reliability.
Built-In Temperature Gauge: We found the built-in thermometer and the temperature gauge on the lid to be very useful. It displays precise temperature readings, so you don't have to open the lid to check each time. This feature is particularly useful for novice grillers who need to keep a check on the heat inside.
Made in the US: If you prefer US-made grills over others, Kamado Joe JOE JR.®WITH CAST IRON STAND might be a good option for you. You can also get US-made grilling accessories from Kamado Joe's website.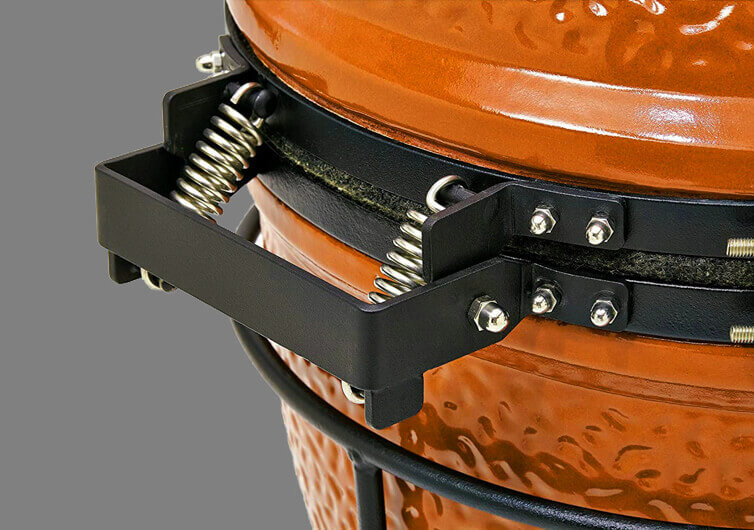 Construction: 4.5/5
Good things come in small packages.
Joe JR. offers value for money with its sturdy ceramic design that locks in smoke and moisture at every temperature. Although the grill doesn't have any extra features, it can function as a griller, smoker, slow cooker, and oven.
The built-in thermometer provides precise readings for more convenience. Additionally, the stainless steel draft door makes it easier to add coal, and the powder-coated galvanized iron stand makes it stable and portable.
Performance: 4/5
Small size, big flavor
The sturdy dome-shaped construction means the grill requires less heat to cook a variety of food items. You can go from very low temperatures for smoking to higher temperatures of up to 400 degrees for searing, grilling, and roasting. That means when you sear a steak, it will come off sizzling like in a steakhouse.
To turn the griller into a smoker, simply place the heat deflector inside. Fuel the grill with lump charcoal and enjoy 12 hours of slow cooking without refueling.
Cleaning & Maintenance: 4.5/5
The grill comes with an ash-removal tool for easy cleaning. As far as the iron grate goes, we recommend oiling it before cooking, and cleaning it with a brush or cloth afterward.
Also, you will have to clean the outer body once after every few uses. The good thing is, it doesn't show any scratches due to its material.
Aside from that, the cast iron needs to be kept dry and safe to ensure that the paint doesn't chip off. However, it only takes a few minutes to touch up any chipping areas.
Warranties & Shipping
Warranty: Kamado Joe gives a limited lifetime warranty on ceramic parts, a three-year warranty on the heat deflector, and a five-year warranty on metal and cast-iron parts. The thermometer comes with a one-year warranty. This warranty doesn't apply to damage caused by misuse.
Shipping: Kamado Joe currently ships within the contiguous U.S. and Canada, excluding Hawaii and Alaska.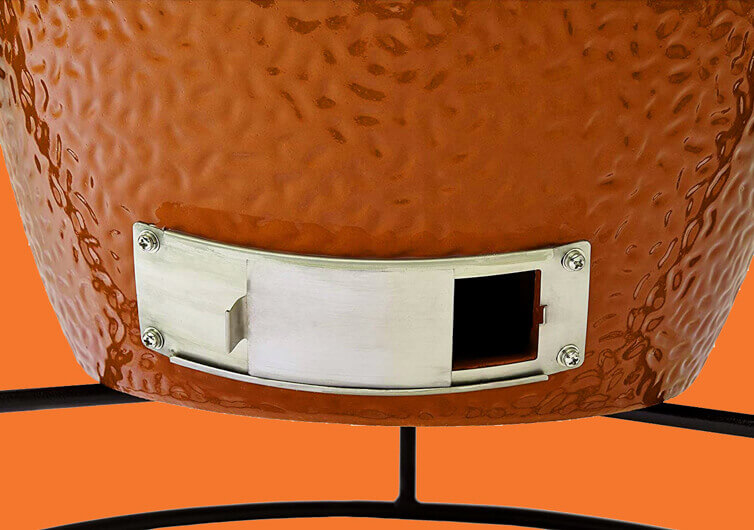 Overall Summary
To conclude our Kamado Joe JOE JR.®WITH CAST IRON STAND review, we think this grill might be a good option for anyone who enjoys grilling on the go. It gives food a rich smoky flavor, which we all love.
The grill looks blazing red from outside and feels sturdy when you use it. The high-quality heat-resistant shell retains heat for even cooking and a smoke-infused flavor. You can change the grill into a smoker or an oven to bake desserts such as cakes and pies.
The built-in thermometer and cast iron stand make it super convenient to use, especially if you are a newbie. Plus, you won't have to go through the troubles of assembly with this one.
Overall, it is a reliable grill for cookouts and parties. If you see yourself grilling on your next weekend, this Kamado grill might come in handy.