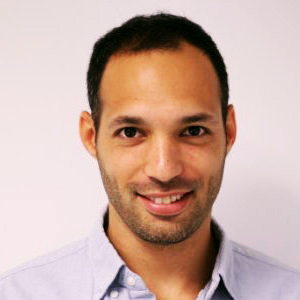 ---
Weber Summit S-670 Gas Grill Review
We receive free products to review and participate in affiliate programs. See our disclosure page for more information.
Often do a lot of cooking? The Weber Summit S-670 gas grill might be what you need. This gas grill has a large cooking area with several burners to cook food. It has six main burners that power on by a jet ignition system. There's also a side burner, an infrared rotisserie burner, a sear burner, and a smoker burner.
This gas grill features a quality design construction with a brushed stainless steel finish. It backs up this elegant look with sufficient power. You'll get a grill that produces enough heat for serious grilling, yet saves on fuel.
If this grill looks like what you've been searching for, you should go through this review. You may scroll to the end for an overall summary if you want to read a shorter review.
Why Choose the Weber Summit S-670 Gas Grill?
The Summit S-670 has all top of the line components that you can think of in a grill. It has a total of 10 burners, each with its control knob. This Weber grill has excellent temperature control, unlike some burners that overheat or don't generate enough heat. Depending on the food you want to grill or smoke, you can choose from a wide range of temperatures.
If you need a versatile grill that'll perform satisfactorily, you may want to consider the S670.
Who Do We Think Matches With the Weber Summit S-670 Gas Grill?
Grilling Enthusiasts Who Love Quality Gas Grills: Weber designed the Summit S-670 with high-quality materials to prevent wear. It comprises high-grade stainless steel, porcelain-enameled steel, and porcelain-enameled cast-iron materials. Both the interior and exterior parts are long-lasting, offering you several years off without repairs. Chefs or homeowners who love grills with sturdy construction will enjoy using the S-670.
People Who Want to Grill For a Crowd: The total cooking area of the Summit S-670 is 759 square inches. This area includes 624 square inches of primary grilling space and 145 square inches of warming rack area. Its cooking surface is sufficient to grill for a large party, with the primary area capable of handling 28 burgers at once.
Lovers of Perfectly Grilled Foods: Summit S-670 provides even heat that reaches into the food. Whether you want to smoke meat or slow cook chicken, you'll get consistent temperature throughout. This consistency results in a perfect grill that satisfies your taste buds.
Possible Weber Summit S-670 Gas Grill Complaints
Expensive Price: The Weber S-670 is a quality grill, but it has a high price tag. It may require a significant financial commitment to purchase this grill, as not everyone can afford it.
Insufficient Illuminating System: The grill has a battery-powered light to illuminate your cooking area. However, you may find it inadequate, especially for night-time grilling.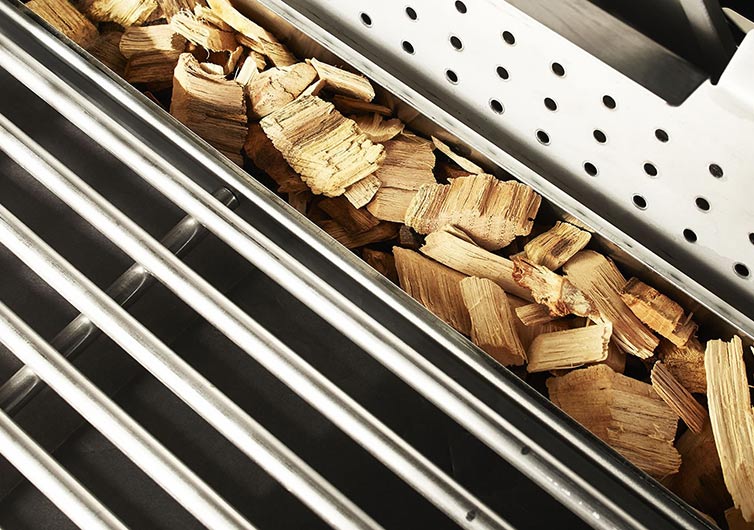 Brand Overview
Company Headquarters: Chicago, Illinois, United States.
Phone: 1-800-466-1071
Email: support@weberstephen.com
Weber is a household name for outdoor grilling equipment. In 1952, its founder George Stephen first designed a charcoal kettle grill, which had the shape of a buoy. Today, there are several other Weber grills like the wood pellets grill, electric grill, and the gas grill collections. Weber's gas grills include the summit series, with the S-670 being part of the series.
First Impression: How Does it Look?
The looks of the Weber Summit S-670 may cause you to conclude that it would be challenging to assemble and heavy to move. On the contrary, the assembly process is easier than it looks, and you'll only need to follow the instruction manual. You can set it up in 40 minutes at most, which is fair for a large grill.
There's no need to worry about its weight as it has wheels to enable you to roll the gas grill into your backyard. Its cooking space is impressive, and it doesn't generate any flare-ups or smokes. There are two versions of this grill: liquid propane and natural gas. While they're both excellent choices, the natural gas version has more storage space where the propane bottle would have been.
Inside the cook box, you'll find the cooking grates, flavorizer bars, burner tubes, and a grease management system. There's also the shroud that has smooth hinges that open freely and a tool holder to hang utensils. The ten control knobs bring each burner to life and also control the heat level for each food.
There's a built-in thermometer, and a fuel gauge, which is easy for first-time grillers to use. If you like smoky flavors, you can use the flavorizer bars, or you can grill some steaks on the sear burners. Each food you grill will come out tasty and juicy.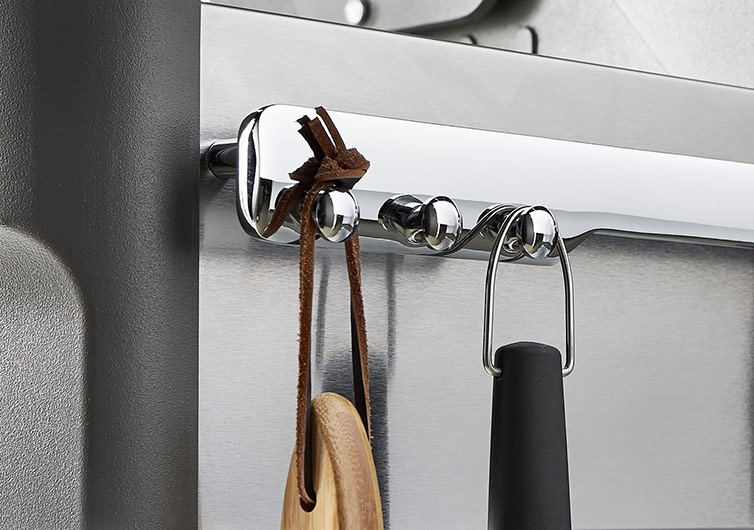 Key Features
Stainless Steel Cooking Grates: The S-670's cooking grates are 9mm thick in diameter. They can retain the highest level of heat and give the food some beautiful looking sear marks.
Cooking Area: The primary cooking area is 624 square inches in space. The main burners each offer 60,000 BTU per hour of heat. You can toss in different foods and get even grilling across the grates.
Burner Tubes: They comprise high-grade stainless steel, which is durable and rust-resistant. Whether you're using the liquid propane or natural gas version, the tubes can handle both fuels. Each burner has control valves with different settings to choose your heat level. The grill's design ensures there are spaces between each burner to balance the heat across the grates.
Flavorizer Bars: The bars sit in the right angles and help to vaporize drippings as you grill, to prevent smoke and flare-ups. Any dripping that escapes goes to the grease management system.
Grease Management System: This system consists of a grease tray and a catch pan. The grease tray stands at a perfect angle and far enough from the tubes to prevent the grease from igniting. This tray collects the grease from the flavorizer bar and sends it to the catch pan.
Preference-Based Features
Full Rotisserie System: The rotisserie system has a flip-up motor and fork storage inside a cart. On the rear of the grill is the infrared rotisserie burner. It provides 10,600 BTU of heat, capable of grilling a perfectly crispy chicken.
Side Burner: It's a 12,000 BTU burner under a flush-mounted cover. It allows you to multitask as you grill.
Smoker Burner: The smoker burner is inside a mower box, and it produces heat of 8,000 BTU per hour.
Sear Station Burner: The 10,600 BTU sear burner heats up to grill you a delicious steak.
Fuel Gauge: The liquid propane version of the S-670 has an LED fuel gauge to help you monitor your gas level.
Ignition System: Each burner has a patented Snap Jet ignition system that fires up the grill.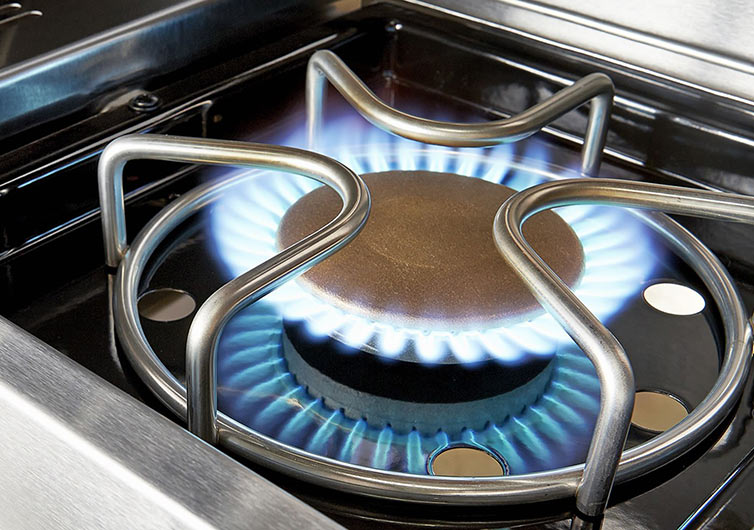 Construction: 4.5/5
The Weber Summit S-670 has a quality design. It comprises stainless steel, porcelain-enamored stainless steel, cast-iron, and cast-aluminum materials. Its construction makes it long-lasting and sturdy. You'll use the S-670 for a long time without wear or tear.
Performance: 4.5/5
This grill is a powerhouse. The 60,000 BTU main burners ensure that there's no limit to what you can grill. The other four burners also perform satisfactorily. Whether you're cooking for a family dinner or a party of people, the grill will offer you the best performance.
Cleaning and Maintenance: 4.5/5
You can easily clean the grates and burner by gently brushing with a grill brush. The grease tray slides out of the cabinet for easy cleaning. When the catch pan is full, you can take out the disposable pan and fix a new one.
Warranty and Shipping
Warranty: All parts of the Weber Summit S-670 have a ten years warranty.
Shipping: Delivery is within 2-5 business days, and it attracts shipping fees.
Similar Gas Grills to Consider
1. Char-Broil Performance 650 6-Burner Cabinet Liquid Propane Gas Grill
This grill features six 60,000 BTU main burners and a 10,000 BTU side burner. It has 650 square inches of primary cooking area with porcelain-coated cast-iron grates. There's also a secondary cooking rack of 280 square inches.
The grill has large metal side shelves which act as a workspace and a removable grease pan for quick cleanups. Other parts of the grill include a stainless steel lid, sturdy handle, and electronic ignition.
2. Nexgrill Deluxe 6 Burner Gas Grill
It has a 15,000 BTU ceramic searing side burner of  560 square inches that grills foods perfectly. There's a rotisserie burner to evenly cook pork, chicken, or steak and a warming rack 200 square inches large. This grill has a Blue LED lighting system to illuminate the cooking area night time grilling.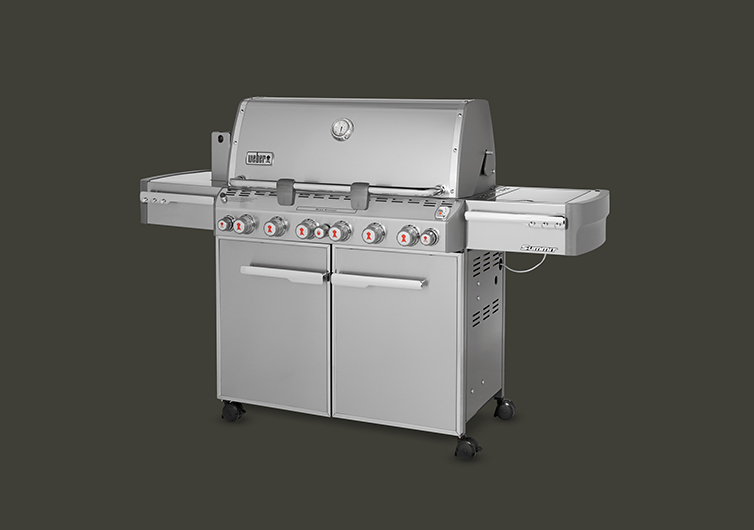 Overall Summary
The S-670 is part of Weber's Summit series of gas grills. It features ten powerful burners to offer you a juicy and tasty grill. It has six 60,000 BTU main burners on a cooking surface of 624 square inches. There's a 12,000 BTU side burner, 8,000 BTU smoker burner, and 10,600 BTU sear burner. You'll also get a 10,600 BTU  rotisserie burner to complete the squad.
The beautiful thing about using the S-670 is that you can adjust the heat over a wide range of temperatures. There's no limit to the kind of food you can cook on this grill. However, you may spend a fortune purchasing this grill.